Monday 10 to 5
Tuesday 10 to 5
Wednesday 10 to 5
Thursday 10 to 5
Friday 10 to 5
Saturday 9 to 1
Sunday Closed
101 Library Street, Marion, Kansas 66861
(620) 382-2442
mlibrary@eaglecom.net     
 Janet Marler, Director
STORYWALK FOR MAY



Groovy Joe : Ice Cream & Dinosaurs by Eric Litwin
This fun book will be on display in downtown
business windows through the month of May.
Stop by the library and tell the staff
about the storywalk book and receive a small prize.
Brian Wendling
Juggling! Comedy! Energy!

Marion City Library is bringing Brian Wendling to the Marion Community Center on Wednesday, June 29th at 10:00 a.m.
This free performance is open to all ages!
Brian Wendling is an International Jugglers' Association champion who combines award-winning juggling, comedy and audience participation into high-energy entertainment. 

His personable wit and versatility have captivated audiences as a performer at Disney World, as an opening act for the Guess Who, and as a feature soloist with the Kansas City Symphony.  He has also been named Best Stage Entertainer at the Kansas City Renaissance Festival on numerous occasions.
Summer is coming and so is our Summer Reading Program   The theme this year is "Oceans of Possibilities".  It will run from

June 13 through July 15.
Children our encouraged to read books at their own level, speed, and interests.  The program is designed for children who have completed kindergarten through eighth grade. It will help them to retain and improve their knowledge of reading to enable them to start the new school year ready to learn more! We also have a special program for preschool children where adults or older brothers or sisters can read to them. All children will keep a record of the books or pages read and will receive prizes as incentives to continue.  
Come in anytime after June 1st and get signed up for a summer of reading fun!  
Please Join Us In These Programs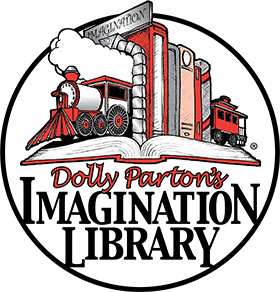 Help children love to read by giving them their own books to read.
For more information call 620-947-3184 (opt 5).
Everyone is welcome to join us!  Last Wednesday of the month from 4 pm to 5 pm
Talking Books is a program run by the state.
Any Kansan that is certified as print impaired can apply for the service.
Contact us to learn more.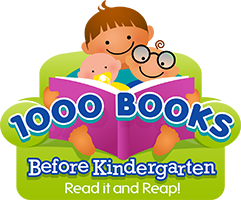 1000 Books Before Kindergarten
This is an ongoing literacy program to help kids to start reading and is available online.
Designed for children kindergarten through eighth grade.
Coming this summer, the program will run June 13- July 15
Frequently Asked Questions
Marion City Library
5 Star Rating
We are very proud and grateful for the award! It is our third year to receive this award!!! We thank everyone for helping us reach this goal

by giving us your support, interest and cooperation in our endeavors to enrich our community.
The ratings are calculated on circulation, library visits, number of programs, attendance

and internet use based on library budget and population.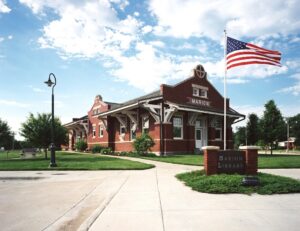 Marion City Library
101 Library Street
Marion, Kansas  66861
620-382-2442
Janet Marler, Director
Award/Prize Book Resources