Monday 10 to 5
Tuesday 10 to 5
Wednesday 10 to 5
Thursday 10 to 5
Friday 10 to 5
Saturday 9 to 1
Sunday Closed
101 Library Street, Marion, Kansas 66861
(620) 382-2442
mlibrary@eaglecom.net     
 Janet Marler, Director
We will be closed Monday, October 10 for Columbus Day.
Lunch 'n Learn Program Presented by…
Kathy's Floral Designs
Kathy Goering will be demonstrating fall flower arranging.
Wednesday, November 9th        12 pm – 1 pm
Tickets: $5.00 for program & lunch
RSVP by November 2
620-382-2442
Railroaded: The Industry That Shaped Kansas
Presented by Leo E. Oliva
 Wednesday, October 19th at 7:00 P.M. in the Santa Fe Room
In the 19th century, the influence of the railroad industry was vast. Some claim that Kansas was created specifically to accommodate westward expansion of reailroads. Railroads brought immigrant settlers, created jobs, and fed beef markets in the East. They enabled regular mail service and the adoption of standard time. Most Kansas towns were founed because of the railroad, and few survived without it. This progress came at a cost to the Plains Indians who were forcibly displaced by this westward expansion. This presentation examines the complicated legacy of railroads.
Everyone is welcome to attend this free program. The program is being sponsored by Humanities Kansas and The Marion City Library.
Trick or Treat Give Me Something Good To Read!
 Monday, October 31st from 4 p.m. to 5 p.m.
Each child in costume who comes to the library will receive a book to take home
Staff will be outside at the Gazebo!!
STORYWALK FOR October
We're Going On A Goon Hunt 
by Michael Rex
A goon hunt is no easy task. A twisted tangled pumpkin patch, murky bubbling swamp, and foggy crumbling graveyard are just a few of the obstacles these kids will have to go through, skulking monsters included. And when the Goon finally makes an appearance—under the covers they go! Except one brave child who finds monsters more fun than scary. This fun book will be on display in downtown business windows through the month of October.
Please Join Us In These Programs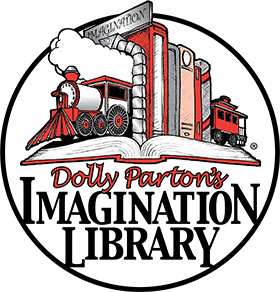 Help children love to read by giving them their own books to read.
For more information call 620-947-3184 (opt 5).
Talking Books is a program run by the state.
Any Kansan that is certified as print impaired can apply for the service.
Contact us to learn more.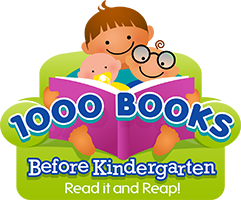 1000 Books Before Kindergarten
This is an ongoing literacy program to help kids to start reading and is available online.
Frequently Asked Questions
Marion City Library
5 Star Rating
We are very proud and grateful for the award! It is our third year to receive this award!!! We thank everyone for helping us reach this goal

by giving us your support, interest and cooperation in our endeavors to enrich our community.
The ratings are calculated on circulation, library visits, number of programs, attendance

and internet use based on library budget and population.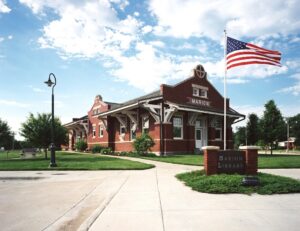 Marion City Library
101 Library Street
Marion, Kansas  66861
620-382-2442
Janet Marler, Director
Award/Prize Book Resources